9 Thai Dishes You Won't Regret Trying
02 March 2017 by Anna Staford
Travelling to Thailand
Thai food is one of the best cuisines in the world, with its delicate blend of flavours and spices it's hard to resist.
Once a veritable unknown in the culinary world, Thai food is now regarded as one of the globes major cuisines. In fact, there is a Thai restaurant in every major city in the world. However, the best place to try authentic Thai food is still of course in Thailand. Just take care of your travel safety before you go and take out travel insurance to Thailand to enjoy its wonders with peace of mind.
This article compiles 9 scrumptious must try Thai dishes while in Thailand.
1. Tom Yum Goong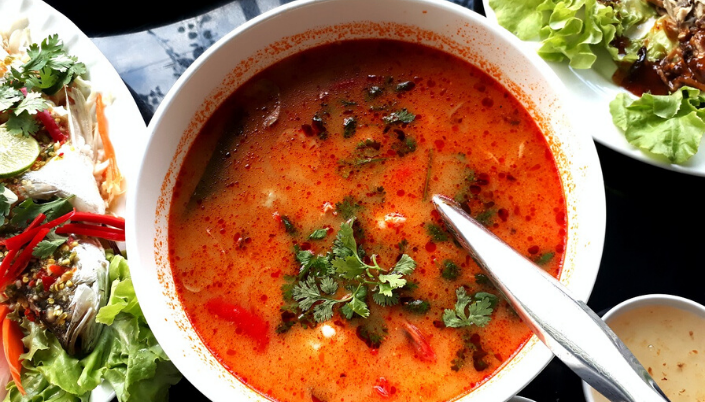 This iconic Thai soup is always on menus in Thai restaurants around the world, but nothing beats eating it in one of the roadside eateries in Bangkok. Shrimp is the main ingredient of this soup, but along with shrimp, you get the unique blend of hot, spicy, and sour overtones to tantalise your palate. Straw mushrooms, fragrant lemongrass and fresh lime leaves add to the distinct aroma of this dish. This hot and sour soup is very versatile. You can request the heat is adjusted to suit your palate. Thailand is also one of 8 countries that will teach you to eat healthier.
2. Tom Kha Kai
Chicken in coconut soup, is a milder twist on Tom Yum soup thanks to the addition of coconut milk to temper the spice. It is a sweet-sour savoury soup that is creamy and delicious. It is usually eaten topped with fresh lime leaves and accompanied with a steaming bowl of rice.
Read also: Street Safety in Thailand
3. Pad Thai
Thailand's version of stir-fried noodles is served in almost every street corner in Bangkok. For some reason, the cheap street version tastes better than the fancy restaurant version and the price differs significantly. In fact, Thai prices are among 14 things that will surprise first-time visitors to Thailand. You can mix seafood, chicken and vegetables in sweet and sour flavoured Pad Thai. The crunchy beansprouts and egg add texture and flavour to the dish. When eating Pad Thai as street food, you may be offered sugar, chopped peanuts and chilli powder to sprinkle on top. Add fish sauce to desired taste level.
4. Som Tam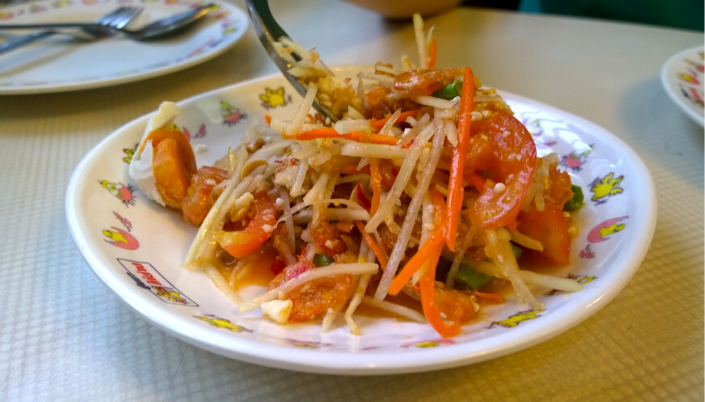 Usually translated as 'green papaya salad'. This classic Thai street food is an amazing and flavoursome dish because it combines fresh, sour, spicy, savoury, salty and sweet in one perfectly balanced dish. The main ingredient, shredded raw papaya, provides a rich texture that is very distinctive. It is super spicy because it's coated with chilli pieces and seeds, but for those who can handle the heat, it is a feast for the senses.
5. Kai Med Ma Muang
Stir-fried cashew chicken, this Thai dish is also a staple in restaurants all over the world. In Thailand, its best served with rice. The chicken stir-fry has cashew nuts and vegetables with garlic, onions, mushrooms, and lots of chillies. If ordered in Thailand, it comes really hot, so perhaps ask them to go easy on the chillies if you need to.
6. Khao Pad
Kao Phad is Thailand's favourite stir-fried rice, which utilises whatever leftover ingredients there are to hand, such as chicken, shrimp, or beef, with egg, onions, and garlic. In the streets of Thailand, Khao Pad is a popular lunch meal and is served with slices of cucumber, a wedge of lime, and chillies with fish sauce.
7. Pad Krapow Moo Saap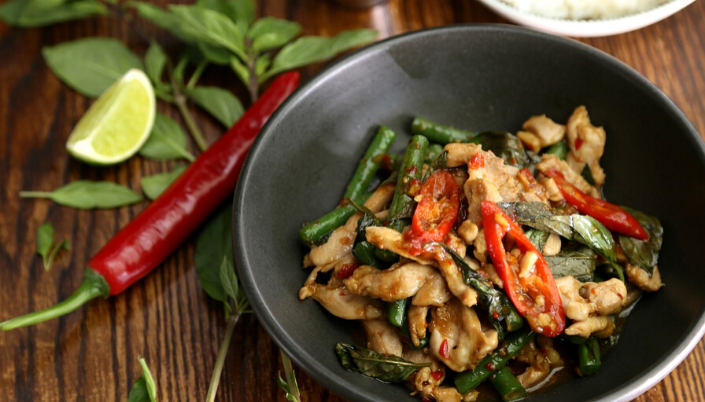 This meal in itself consists of fried basil and pork cooked with green beans, basil leaves, fresh chilli, sugar, and soy sauce. It is usually served on a bed of rice with fried egg on the side. The night markets and street stalls in Thailand cook this dish to perfection.
8. Gaeng Keow Wan Kai
One of the best and spiciest curries in Thai cuisine, green curry is made with green peppers, aubergine, and coconut milk. This Green Curry Chicken dish, is cooked with vegetables such as aubergine, sprigs of coriander and bamboo shoots, with sliced chicken breasts. You can also cook this with beef, but somehow chicken or prawn tastes much better. The creamy coconut milk adds richness to the mixture, and it is always served with a bowl of steaming white rice.
9. Massaman Curry
This Southern Thai dish is a rich stew that consists of curry, cashews, potatoes, cinnamon, bay leaves, and chicken. What makes the dish taste distinctive is the combination of coconut milk, cardamom pods, fish sauce, tamarind sauce, and chilli. This hearty dish is a favourite among tourists, and is always features on menus.
There are other delicious Thai dishes that should be included in the list, but so far these are the best dishes that you shouldn't miss.