These Tulip Fields in the Netherlands Are Where You Should Enjoy Spring
27 March 2018 by Anna Staford
Travelling to the Netherlands
Spring signifies the start of warmer weather, and it is many people's favourite season of the year. When we think of spring, one of the first images that comes to mind are delicate spring flowers including the humble tulip which is a firm spring favourite. Without a doubt, one of the best places on earth to appreciate the humble tulip in all its glory, is tulip fields in the Netherlands.
From mid-April through to May, fields across the Netherlands bloom into life, with amazingly bright and vibrant tulips carpeting the landscape for mile upon mile. If you're planning on taking a holiday or long weekend trip to Europe any time soon and are a fan of tulips, why not stop off in the Netherlands and enjoy some of the most spectacular tulips in the world? Here's a look at some of the best places in the Netherlands to see tulips in all their glory.
Amsterdam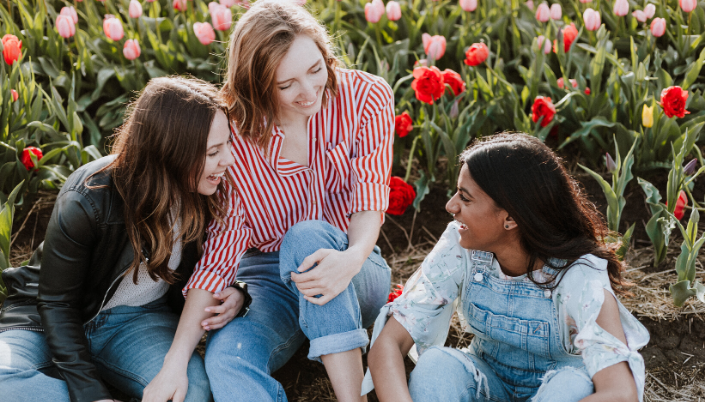 Not only does Amsterdam have a reputation for being a party-themed weekend destination, it turns out that it is also an incredible place to appreciate Netherlands beautiful tulips too. Obviously you don't generally find fields in cities, but you will find tulips. This is because a large number of horticultural events and attractions are hosted here during the spring. On top of that, Amsterdam also has one of the most popular floating flower markets in all of Europe, where tulips are the star of the show during spring. To satisfy your tulip-themed craving, Amsterdam also hosts one of the biggest tulip festivals on the planet, where, for several days, the city is transformed into a bright and vibrant oasis of tulips.
If you enjoy ecotourism, here are 6 Places to Enjoy the Nature
Noordoostpolder
This place was actually underwater until fairly recently, as it was completely submerged under the sea. Things are now very different however, and the seas have subsided, leaving rolling fields and greenery stretching for as far as the eye can see. Now, this mass of greenery is completely covered with beautiful flowers, many of which are tulips, which predominantly come in amazing shades of pink. These fields are at their best and absolutely spectacular in late April/early May, so if you plan on visiting the Netherlands to experience stunning tulip fields in all their splendour, be sure to book yourself onto one of many bike-friendly guided tours of these wonderful fields.
Lisse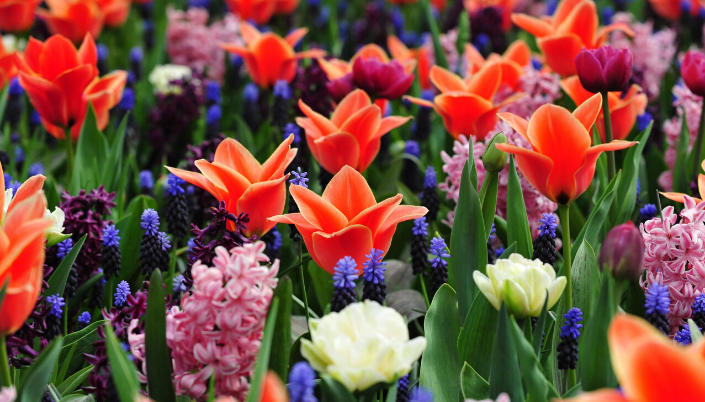 Lisse is a town in the Netherlands that is completely dominated by tulips during the spring months. Lined with hundreds upon hundreds of tulip fields, Lisse is renowned for producing some of the most colourful and eye-catching tulips in the region and in fact the world for that matter. Many of the tulips found in florists and markets all over Europe, including the UK, are grown right here in Lisse. The tulips making up these fields come in a variety of different colours, which culminate in producing a riot of uniform multi-coloured stripes on the landscape. Lisse is home to a museum dedicated to the Dutch tulip industry, called the Museum de Zwarte Tulp.
Noordwijkerhout
Noordwijkerhout may only be small in size, but don't let that fool you, as it plays a big part in the thriving tulip producing industry of the Netherlands. Situated on the coast between Haarlem and Leiden, Noordqijkerhout is often known as the Dune and Bulb Region. This small Dutch town is dominated by expansive tulip fields, and due to the superior soil quality, it has a reputation for producing some of the finest tulips in the whole world. For a fantastic day out, grab your bike and go exploring, as the region, like virtually everywhere else in the Netherlands, is easily accessible by bike. Check out everything that this little coastal town has to offer including the superior tulip bulbs this region has to offer.
So if tulips are your passion, head for the Netherlands this spring and don't forget to purchase your travel insurance nice and early to stay protected. Also read the latest travel tips, pack your cycling gear and get ready to see nature in all its natural tulip-glory.
Read also:8 Great Destinations for Spring Break