What No One Tells You About Travelling To Turkey
25 August 2016 by Anna Staford
Travelling to Turkey
When it comes to travelling, there are facts commonly known and shared and there are those lesser known gems that the majority of travellers may miss out on. See below a list of some breathtaking sites to visit while travelling to Turkey that will improve your understanding of its history and natural environment. Remember to obtain reliable travel insurance before you go, read our travel advice and plan your trip well.
Rock Tombs in Myra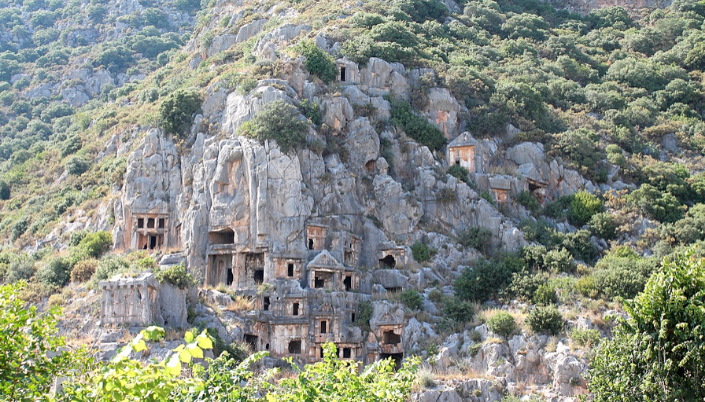 The ancient town of Myra, in the Lycia region of Anatolia, has many breathtaking ruins including the Acropolis on the Demre-plateau. This area has been under the control of various empires including Persian, Greek, Roman, Byzantine and Turkish, so it is rich in history with some amazing archaeological sites. The ancient Rock tombs in Myra (now called Derme) are definitely worth a visit. As you get close to them you initially see just the side of a mountain but, little by little, as your eyes adjust and focus, you start to see many beautifully carved constructions sprinkled between the trees clinging to the mountainside.
Cave Homes in Cappadocia
Have you ever wondered what it is like to be in an ant colony? Maybe not! But if you have, this is probably the closest you will get. In the region of Cappadocia—East Turkey—there are miles and miles of "human ant hills". The small city of Orahisar—435 miles from Istanbul, in the Göreme National Park— is a good example. The closer you get, the more you realise that the houses have actually been carved into the rock. The views are really astonishing. If you want to see it more closely, continue your trip to Kaymakli.
Kaymakli—The City Underground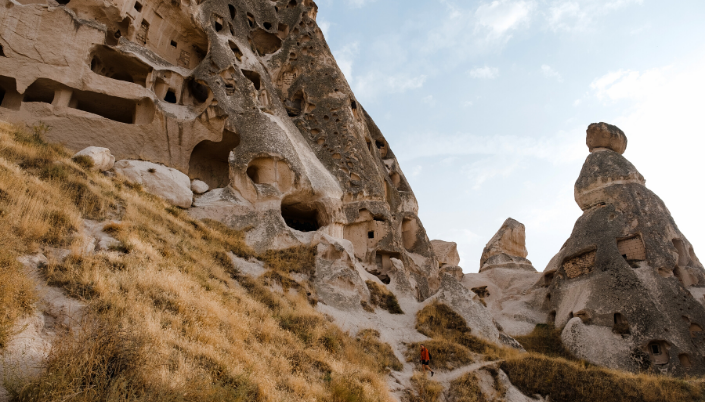 Just 16.7 miles south there is an underground city more than 1,400 years old. Instead of streets, there are tunnels that run both horizontally and vertically to connect all the different room chambers, workshops and even animal pens, creating a human scale ant-colony.
Originally called Enegup, this city is believed to have been built by Christians as a refuge from foreign invaders. It could accommodate the inhabitants of an entire village for weeks.
Read also: Do's and Don'ts When Travelling in Turkey
The Thermal Centre in Heybeli
On your way from Konya to Afyonkarahisar, about 12 miles before arriving, you find an amazing site that doesn't appear on most tourist guides. The Heybeli Thermal Centre. As you get closer your nose will tell you that you are in a geothermal area and endless plains appear in front of you with countless pools of thermal water. In the middle of the plains you will find a centre where two big domes rise majestically. Each has a large round pool, one for men and another for women, and since it is not a tourist spot, it is very cheap.
The Cotton Castle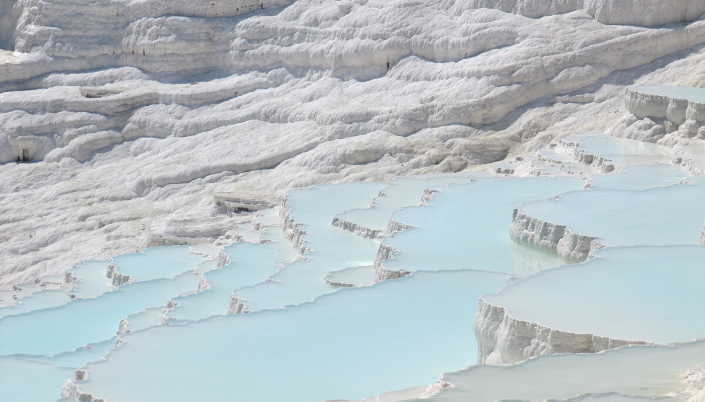 Pamukkale is one of the greatest Turkish natural treasures and is aptly named the Cotton Castle and is made up of vast mineral forests and terraced warm basins with seventeen hot springs. The whole amazing structure resembles a snowy cotton mountain from afar but when you get closer you'll see the travertine terraces forming pools of hot water cascading over the white cliffs. Aside from being beautiful, Pamukkale is said to be beneficial to your health. The hot springs water is mineral-rich containing magnesium sulfate, calcium and bicarbonate. The temperature is between 36 and 38 degrees Celsius.
Bozcaada—Where the Locals Go on Holidays
On the Northwest coast on one of the islands in the Aegean Sea there is the island of Bozcaada, the smaller of the two inhabited Turkish islands in this area. This is home to some of the best beaches in the country and also most visited by the Turkish. However, Bozcaada is much more than just a place to relax and sunbathe, its imposing castle is well worth visiting. In addition to its Byzantine origin, you can appreciate other styles including Genovese, Ottoman and Venetian. Wonder through its cobbled streets as they lead you to the castle and then go explore the island. It's small so can easily explore it all.