Cheap Accommodation & Budget Rentals in Turkey
05 June 2014 by Anna Staford
Travelling to Turkey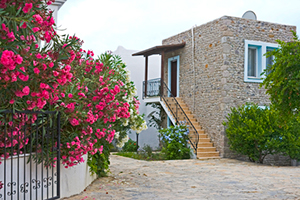 Enjoy home-away-from-home comfort without breaking your budget. One destination offering such a convenience is Turkey, where you can have a wide selection of budget-friendly rentals that can provide you with comfortable lodging and kitchen and dining facilities at reasonable prices.
Accommodation is the most expensive aspect of a holiday and saving money in this particular area can enable you to spend the cash on dining on exotic cuisine, shopping for exquisite souvenirs, or seeing a spectacular show. Searching for budget flat rentals on the internet will yield a gold mine of cheap accommodation.
What to Look for in Budget Rental Flats
The typical bed-and-breakfast inns in Turkey are known as villas and come complete with kitchens. However, if you would rather spend a greater portion of your budget on things other than expensive accommodations in hotels with star ratings, a flat would be most suitable for you. Here are some of the features to look for when considering flat rental:
Kitchen: choose a flat that has a small kitchen where you can prepare your meals. If your chosen flat is near grocer's shops or the local market, so much the better so you can avail of fresh produce and other cooking ingredients.
Water: ensure that your chosen flat has an adequate supply of water for bathing. Install one of those disposable water filters that you attach to faucets to strain small particles from the water. Bottled drinking water may be pricey in Turkey but saving up on accommodation enables you to buy drinking water.
Electricity: ensure that electrical outlets and sockets are safe for use. Avoid rentals with broken light bulbs, exposed wires, etc., especially if you have young children with you.
Location: cheap does not mean settling for a location that may hazardous to your health and security. Avoid flat rentals near factories, chemical plants, and neighbourhoods populated by gangs.
Accessibility: choose a rental that is accessible by common transport such as cars, taxis, buses, trains, trams, and ferries. You do not want to stay in a place where access to transportation will be a problem in case of an emergency. Hostels are Suitable if All You Need is Sleeping Quarters
If all you need is a place to sleep in because your schedule is bound to filled with sightseeing, shopping, and other tourist activities, a hostel is highly recommended. Most of these hostels cost between $20 and $90 a day but, believe it or not, some can even go for as low as $6 a night! Although cheap accommodation may make you wary of the security measures, ensure your safety with a comprehensive travel insurance for Turkey policy to cover your luggage, cash, and other personal belongings against loss, fire or theft.
In a foreign country, you cannot underestimate the value of preparedness when it comes to the possibility of a medical emergency or the occurrence of natural calamity. That said, it would be wise for you to take out a travel insurance for Turkey as additional cover for your current policy. Some companies can provide you with an even wider range of protection from sports and athletic activities, extension of cover for up to seven travelling companions, trip cancellations, and personal accidents.